HA DENSIMATRIX
Regular price

Sale price

$159.00

Unit price

per
Share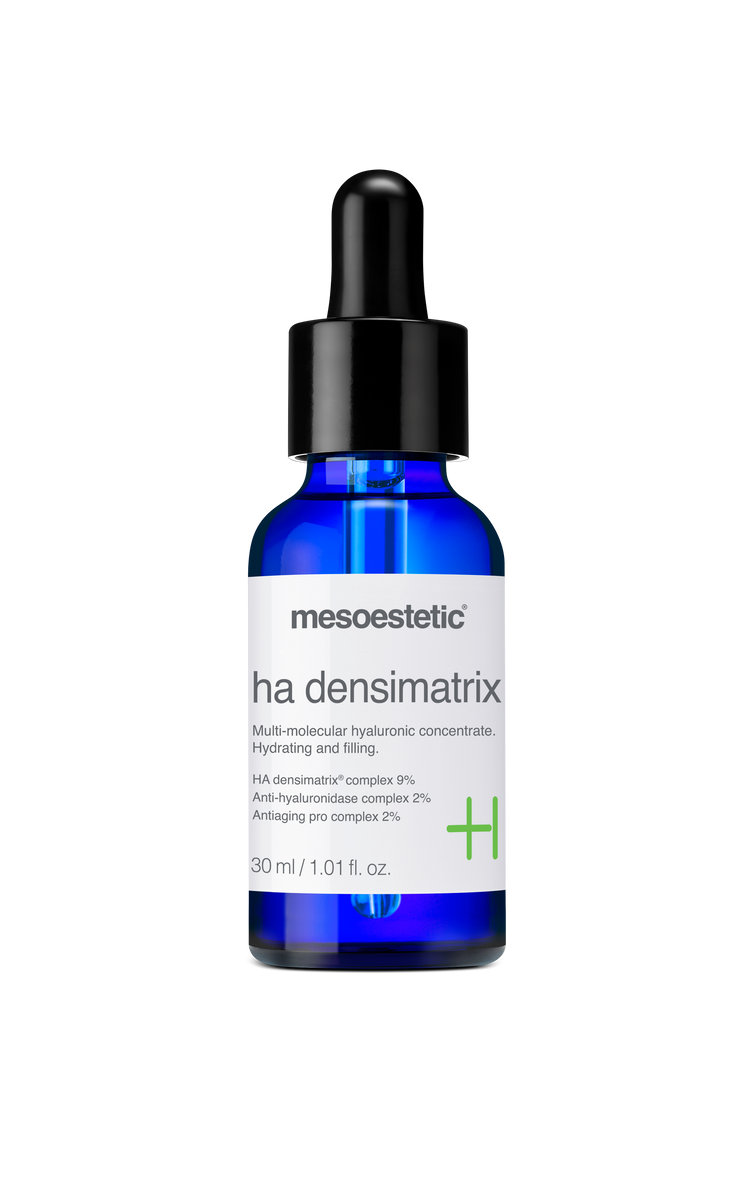 HA Densimatrix contains HA densimatrix complex, which combines cross-linked, high weight, middle weight, and low weight hyaluronic acid molecules for a deeper, longer-lasting hydration. These multi-targeted molecules help to ensure that your skin is hydrated and plumped from all angles.
In addition to a smarter blend of hyaluronic acid serum, mesoestetic HA Densimatrix also contains Anti-hyaluronidase complex, which prevents your skin's own hyaluronic reserves from degrading. Anti-ageing pro complex firms and prevents the formation of wrinkles, by boosting collagen and elastin synthesis in your skin.
Hyaluronic acid serum that features many different hyaluronic acid molecules
Hydrates, firms and plumps the skin
Ideal for all skin types, including sensitive
Targeted hyaluronic molecular weight to work on more than just the surface
Formulated to protect the skin's hyaluronic acid reserves
Antioxidants block free radicals that cause some signs of premature ageing
Promotes the synthesis of collagen and elastin for firmer, more elastic skin
Improves barrier function of the skin to help rejuvenate the skin
Hyaluronic acid - It combines Hyaluronic Acid in several molecular forms (cross-linked, high, middle and low) with an active ingredient that enhances endogenous synthesis. Provides a filling action and a deep, long-lasting moisturising action for a greater juiciness, elasticity and turgor of tissues.
Antiaging pro complex - It protects from Hyaluronic Acid degradation by inhibiting the action of the Hyaluronidase enzyme and blocking the oxidation caused by external aggressions.
Anti-hyaluronidase complex - It firms intensely the tissues and prevents wrinkle formation by improving the synthesis of skin support fibres: collagen and elastin.
.
After cleaning and drying the skin, apply 3-4 drops of ha densimatrix over it, and massage to complete absorption.
It must be applied before the regular treatment cream or sunscreen.
If you are using this product with retinol, apply the retinol first, then the HA serum.